LAMBIR HILLS NATIONAL PARK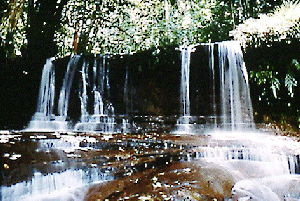 Lambir Hills is often overlooked by visitors eager to view thespectacular caves of Mulu and Niah, but it is in fact one of themost interesting and easily accessible of Sarawak's national parks.Only 30 minutes from Miri, Lambir Hills' 6952 hectaresof dipterocarp and heath forest contain probably the greatestlevel of plant biodiversity found anywhere on Earth. There isno shortage of wildlife either; resident species include gibbons,tarsiers, bearded pigs, flying lizards, deer and 157 differenttypes of bird.
The park has a number of forest trails; the longest, to BukitLambir (465m) is hard work but very rewarding for its superb viewsof the rainforest. Along the way there is a 40m tree tower withan aerial walkway, which is ideal for viewing the forest canopyecosystem and for birdwatching. The rugged terrain has led tothe formation of a number of attractive waterfalls, some of whichare suitable for swimming. The park is ideal for day visitors,although accommodation is available at the park HQ.