THE NETWORK AND VISITOR FACILITIES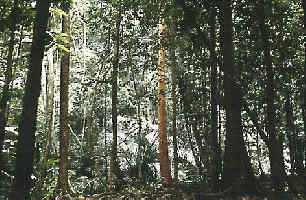 Sarawak's network of national parks is acknowledged as one ofthe best in the region, offering eco-conscious visitors the opportunityto explore Borneo's rainforest, see rare wildlife and view someof the most spectacular natural attractions Sarawak has to offer.Each of Sarawak's ten parks is a conservation zone, totally protectedby Malaysian law. Hunting is strictly prohibited and all commercialactivities are banned. In some of the parks, local communitiesare allowed to carry out traditional activities that they havepractised for centuries, but even this is monitored to ensurethat the ecosystem is not disturbed.
Although the emphasis is on the conservation of Sarawak's uniqueflora and fauna, park facilities have been developed so that visitorscan enjoy and appreciate the diverse natural attractions. Nature-basedrecreational activities include jungle trekking, mountain climbing,birdwatching, caving, guided rainforest walks, plant study andbeachcombing, all with good opportunities to see some of Borneo'srare and unusual wildlife.
All the parks listed are open to the public and have a range offacilities. The park headquarters have electricity, piped waterand information centres. Most have a range of accommodation (campsites,hostels-type rooms, resthouses and chalets) and a canteen servinghot and cold drinks and snacks. All rooms have fans. There arealso cooking facilities and barbecue areas for visitors who chooseto bring their own food.
The parks have a choice of trekking options on clearly markedtrails and plankwalks. These range from easy walking tours toserious jungle hikes that involve camping out in the rainforest.Information centres provide details of the various trails, whilstpark rangers and guides are always on hand to offer assistanceand answer any questions.