GUNUNG GADING NATIONAL PARK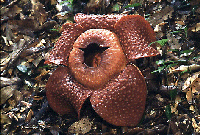 Gunung Gading National Park is home to the world's largest flower,the Rafflesia. The park, which consists of a series ofrugged mountains, is located near the town of Lundu in SouthwestSarawak, about 2 hours drive from Kuching.
For over 10 years, Gunung Gading was run primarily as a conservationzone for the protection of the Rafflesia. After extensive studiesit was decided to open the park to visitors, but only after measureswere taken to allow visitors to view flowering Rafflesia plantswithout damaging the park's ecosystem, particularly the youngRafflesia buds found all over the forest floor.
The park was opened in mid-1994 with a specially-built plankwalkthat allows visitors to walk around an area where Rafflesia arecommonly found. If a plant is flowering deep in the forest, thepark rangers are usually able to take visitors on a guided forestwalk to the site. The rangers monitor the progress of young budsin the park and therefore know when a Rafflesia is about to flower.Visitors can telephone the park HQ from Kuching to check if aRafflesia is in bloom, or is about to bloom.
Undoubtedly the highlight of a visit to Gunung Gading is findinga Rafflesia in full bloom, but the park and the Lundu area alsohold other attractions. A series of waterfalls and some clearjungle streams provide excellent bathing spots and there are plansto create a system of jungle trails at Gunung Gading, similarto those at Bako. In addition, the coastline of Southwest Sarawak,with its beaches and picturesque villages, is only half an hourfrom the park.